Your complete partner for simple and quick monitoring of the evolution of the horse's feet.
Allows access to X-ray analysis thanks to Metron Blocks and the superposition of X-rays and photos of the hoof capsule.

The Kit Pro Bipodal allows an illustration, an ultra complete follow-up of the evolution of the hooves very easily and simply.
Simply take your photos with your smartphone via our Metron by Ekico app and we do the rest for you!
The radiographs can be sent by email to be analyzed and integrated into the files of your horses concerned.

The Ekico follow-up files via the Metron-Hoof software allow you an encrypted, precise and complete follow-up of the orthopedics of your horses in order to support you in your expertise.
Ideal for both veterinarians and farriers who wish to take bipodal photos and x-rays. This kit includes everything you need to take pictures and X-rays and is easy to transport thanks to its case and its horse tracking application.

Contents in this kit:
1x White background for photos

The horse health tracker app allows you to accurately track foot progress.
Different subscriptions adapt perfectly to your activity.
Without commitment, you can adapt your package month by month. You get your files analyzed automatically within 12 hours.
With the Metron by Ekico horse tracking app, find all of your measured photos and x-rays. In one click you get precise monitoring of the health of the horses in your charge. You can share your files with your customers and collaborators if you wish.
The displayed price is exclusive of tax.

To equip yourself, you have several means of payment according to your preferences (CB, Paypal, Amazon Pay...)
For orders by bank transfer contact us directly by phone +33 6 59 87 57 82 or by email: contact@ekico.fr
Delivery costs are calculated automatically based on your geographic area and the weight of the items in your basket.
The replacement of your technologies is guaranteed in the event of a manufacturing defect.
For any assistance we remain at your disposal via our after-sales service line: +33 6 59 87 57 82 Where support@ekico.fr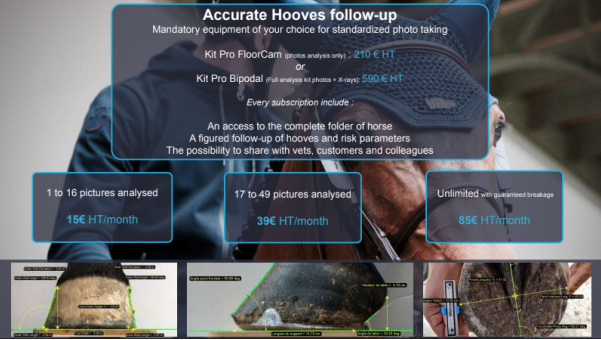 Des retours positifs
J'utilise cet outil principalement pour le suivi des chevaux de compétition que j'ai en clientèle. Cela me permet de maintenir les chevaux dans des paramètres qui leurs correspondent très bien pour être performants en compétitions.
Grâce aux photos, les cavaliers s'intéressent aussi plus à la santé des pieds de leurs chevaux et à mon travail. J'ai de bons retours.
Un autre point positif est le retour des vétérinaires avec lesquels je collabore. J'avais des doutes au début sur leur perception de cet outil. Le résultat est sans appel, cette technologie permet beaucoup de professionnalisme pour les orthopédies en commun, chacun avec son expertise respective.
Ludique et esthétique
C'est un outil ludique et esthétique qui améliore la communication avec le propriétaire et le maréchal.
Very glad
Definitely, I'm really glad to use this system and see that's other professionnals integrate it in their practice also.
These measurements help me a lot for specific case as for laminitis disease for example, but not only.
The device can be used anywhere and for various problems.
Top
Le système est vraiment top !
Il futuro nel lavoro del Maniscalco!
Ringrazio Ekico per l'efficacia e la professionalità e l'ottima funzionalità !!! Ancora sto cercando di imparare ad usarlo , ma credo in Ekico per un futuro migliore nel lavoro del Maniscalco!! Grazie a tutto il team Ekico