Horse Tracking App: Hoof Documentation
The FloorCam kit is your ally for monitoring the evolution of the horse's feet.
Simple, easy and fast, all you have to do is take your photos with your smartphone via our Metron by Ekico mobile application.

Once your photos are taken, Ekico takes care of everything else for you!
Analysis of the pictures using the Metron-Hoof software from Eponamind, creation of the files of your horses, realization of comparisons...
The evolution of hoof capsule monitoring has never been easier and more comprehensive for equine health professionals and their clients.
The FloorCam Kit is essential for objectively and quantified monitoring of how hooves are changing.
Included in this FloorCam pro kit: 
1x Carrying case
1x FloorCam to be able to take pictures with your smartphone
1x Auto-scaler to be able to scale your photos
1x White background to have a plain background of your photos
Optional: The calibration ring allows you to analyze solar views
Once equipped with this equipment, you can now easily monitor the health of the horses in your care thanks to our various analysis subscriptions. Monthly and non-binding, subscriptions adapt to the needs of your business. The analyzes are returned to you within a maximum of 12 hours.
Find all of your measured photos, automatically classified by horse in a dedicated folder thanks to this horse tracking app. Follow in one click the evolutions between each of your interventions, keep track of your work and share your precision files with your customers and collaborators.

The displayed price is exclusive of tax.
To equip yourself, you have several means of payment according to your preferences (CB, Paypal, Amazon Pay...)
For orders by bank transfer contact us directly by phone +33 6 59 87 57 82 or by email: contact@ekico.fr
Delivery costs are automatically calculated based on your geographic area and the weight of the items in your basket.
The replacement of your technologies is guaranteed in the event of a manufacturing defect.
For any assistance we remain at your disposal via our after-sales service line: +33 6 59 87 57 82 Where support@ekico.fr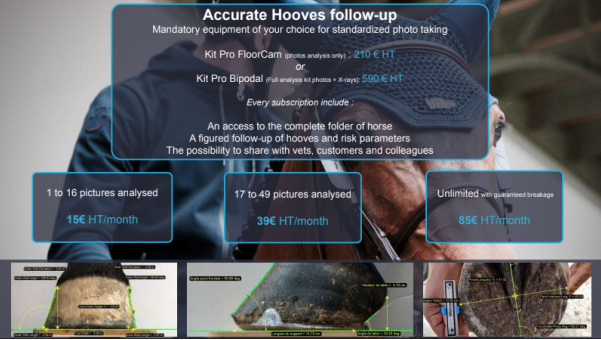 Fundamental
A utilização do sistema de medição da EKICO tem sido fundamental no exercício de correção de aprumos estamos felizes por fazer parte desse time !
Un appui précis pour l'oeil nu
Je trouve l'outil très efficace pour m'apporter des informations chiffrées et précises en complément de mon observation.
C'est un support pour conforter notre visuel, mais aussi mettre en évidence des défauts d'aplombs qui peuvent passer inaperçus dans notre routine habituelle. Cela offre une vision différente du pied.
Le dernier exemple en date concerne le suivi d'un de mes propriétaires qui est également vétérinaire.
Nous n'avions pas la même vision des pieds de son cheval.
Dans ces cas-là, le suivi Ekico apporte des données objectives et très précises, difficiles à déceler à l'œil nu.
Pour le cheval en question, les choses se jouaient sur une différence de 4mm au niveau des talons !
Efficacité, rapidité, simplicité
Je suis vraiment content avec cet outil de travail. Il allie efficacité , rapidité, simplicité.
Ce qui peut nous aider va aider le cheval.
Parer à l'aide des services Ekico
Ce logiciel permet d'avoir l'angle exact du pied du cheval et de parer avec le plus de précision possible les chevaux avec des problèmes pathologiques.
Une documentation professionnelle auprès des vétérinaires
Le suivi des pieds est un outil utile pour voir précisément ce que j'ai gagné ou perdu sur mon pied.
Un exemple tout récent est le cas d'un cheval sur lequel je n'avais pas de protocole vétérinaire. J'ai donc dû uniquement me fier à mon expérience pour gérer le cheval jusqu'à sa visite au Cirale.
Une fois là-bas, pouvoir échanger avec les vétérinaires avec une documentation précise des pieds, ça été très utile et enrichissant.
Le travail effectué correspondait parfaitement aux recommandations de l'équipe véto. Nous étions tous très contents de l'évolution du cheval et de la collaboration maréchal/vétérinaires.